Being Well: In Search of Utopia?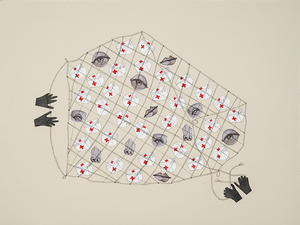 Being Well: In Search of Utopia?
Old Stone House
336 Third Street (bet 4th & 5th Avenues) Park Slope Brooklyn

Open Fridays 3-6pm or by appointment 718-768-3195

EXTENDED through January 7, 2018

Curated by Katherine Gressel
Featuring artists:
Zoey Hart
Leslie Kerby
Anthony Heinz May
Carolyn Monastra
Shana Moulton
Carmen Paplia
Shervone Neckles
Jenna Spevack
Tafftoo Tan
Jody Wood

Being Well: In Search of Utopia?

is a group exhibition exploring artists' role in defining and facilitating community health and wellness.

At a time of anxiety over the future of healthcare, the environment, and a population increasingly divided, individual and collective healing are at the forefront of many conversations



---
Dancing with RHINOS
Dancing with RHINOS
Van Der Plas Gallery
156 Orchard Street, NYC
July 7 - July 20, 2017

Opening Reception July 15, 2017, 6-8pm

Group exhibition featuring work by Konstantin Bokov, Thomas Cos, Sally Eckhoff, Fred Gutzeit, Leslie Kerby, Yolanda Mesa, Elizabeth Riley and Nicholas Sperakis
---
Fight or Flight
Fight or Flight
June 20 - July 15, 2017
Curated by

Alix Bailey, Barbara Marks, Patricia Spergel



Opening Reception: Thursday, June 22, 2017
6-8pm

THE PAINTING CENTER
547 WEST 27TH STREET, SUITE 500, NEW YORK, NY 10001
GALLERY HOURS: TUESDAY - SATURDAY, 11:00 AM - 6:00 PM

---
American Pie
American Pie
May 13 - June 18, 2017

With artists Dexter Buell, Susan Copich, Don Doe, Amy Hill, Leslie Kerby, Seth King, David Kramer, Rene Lynch, Amy Mascena, Judith Page, Rachel Youens, Mary Jo Vath, Scott Williams
---
Norte Maar's CounterPointe 5
A collaboration with XAOC Contemporary Ballet, participating in Norte Maar's CounterPointe5 program, to present The World Contained II, a video animation and sound piece produced in collaboration with Lianne Arnold (designer) and Elisheba Ittop (sound).

http://media.icompendium.com/leslieke_Container-Animation-Master-w-credits-1080x1080-20170421.mp4

The animation is part of a larger body of work on paper and sculpture titled Containment Series that explores various uses of shipping containers as a part of our global economy as well as increasingly for low-cost and permanent housing.

Press
Two Coats of Paint
http://www.twocoatsofpaint.com/2017/04/counterpoint.html
---
Residency at Virginia Center for Creative Arts (VCCA)
This is my third residency as a Fellow at the Virginia Center for Creative Arts (VCCA). In the studio, this a a series of new chine colle prints that are a part of my container series.
---
Exhibition: SuperWoman
Exhibition: SUPERWOMAN

Reception:
Saturday, March 11th
4:00pm – 8:00pm

Exhibit dates:
March 11th – April 29th
Saturdays & Sundays: 11:00am – 4:00pm

More about the event
https://www.facebook.com/events/1335114029884377/

Image: If You Play Your Cards Right, 2005, Linocut with Hand Stamp,
22" x 30"